Jendamark's ODIN Manufacturing is designed to provide digital solutions to real-world problems on our customers' factory floors. To make the ecosystem more accessible and easier to implement for customers, the offering has been restructured into two distinct clusters of support.
Head of ODIN Manufacturing Juane Schutte says the solutions can be broken down into those that support complex, discrete manufacturing processes and those that support critical maintenance and shopfloor tasks.
"We've identified these two distinct problem areas where our customers need support," explains Schutte.
"If you need support for your production process, we recommend the base product, ODIN Workstation, and if you are looking to digitise your maintenance function, then we start you off with ODIN Checkpoint."
Depending on the customer's unique situation, Schutte says, a combination of various add-on products can be incorporated to provide a tailored solution. Below is an overview of how ODIN Manufacturing can solve common production or maintenance challenges.
PRODUCTION SUPPORT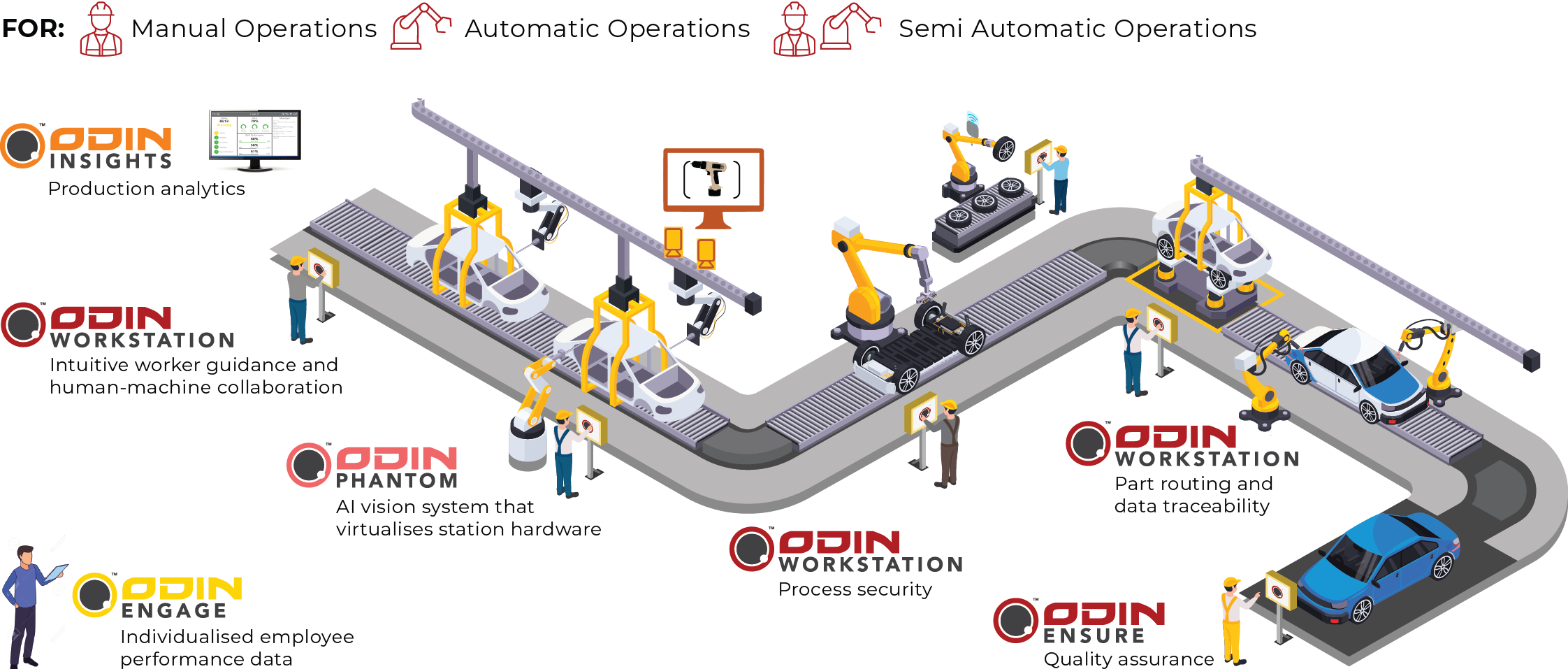 When it comes to production processes, the base product is ODIN Workstation – a digital infrastructure solution that increases efficiencies on your production line. Its core features are enhanced operator guidance, quality assurance, direct device integration and production planning.
As a standalone product, ODIN Workstation provides a multitude of capabilities and features, while its add-on solutions unlock further potential.
For example, if you are struggling with defective parts due to incorrect orientation during assembly, the ODIN Phantom AI vision system could assist with process tracking, while ODIN Ensure digitises your end-of-line checklist to improve traceability and process security for your quality assurance process.
ODIN Engage tracks the performance of individual operators, so that you can support them by identifying areas for improvement and training, while ODIN Insights provides comprehensive production-level reporting to accelerate root cause analysis when there are problems and to minimise downtime.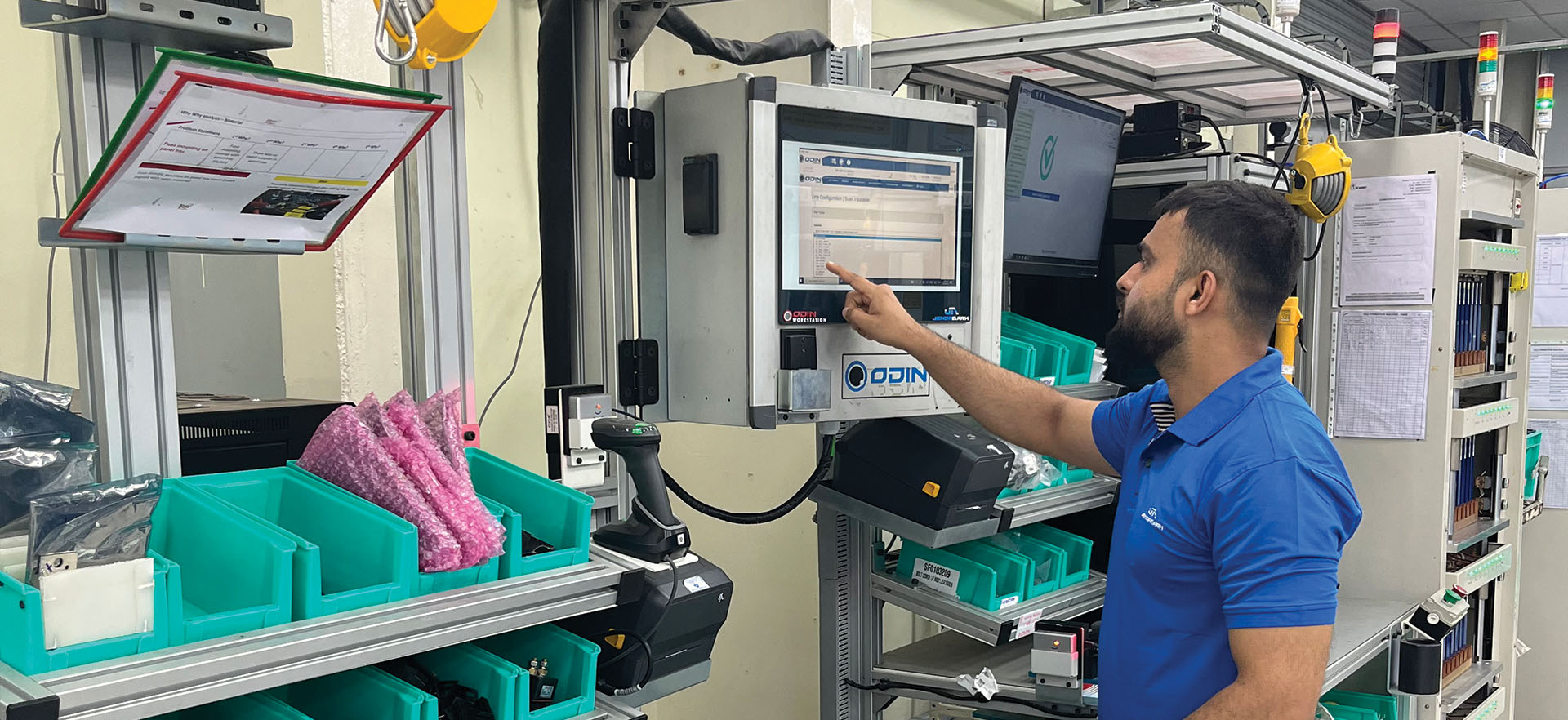 MAINTENANCE SUPPORT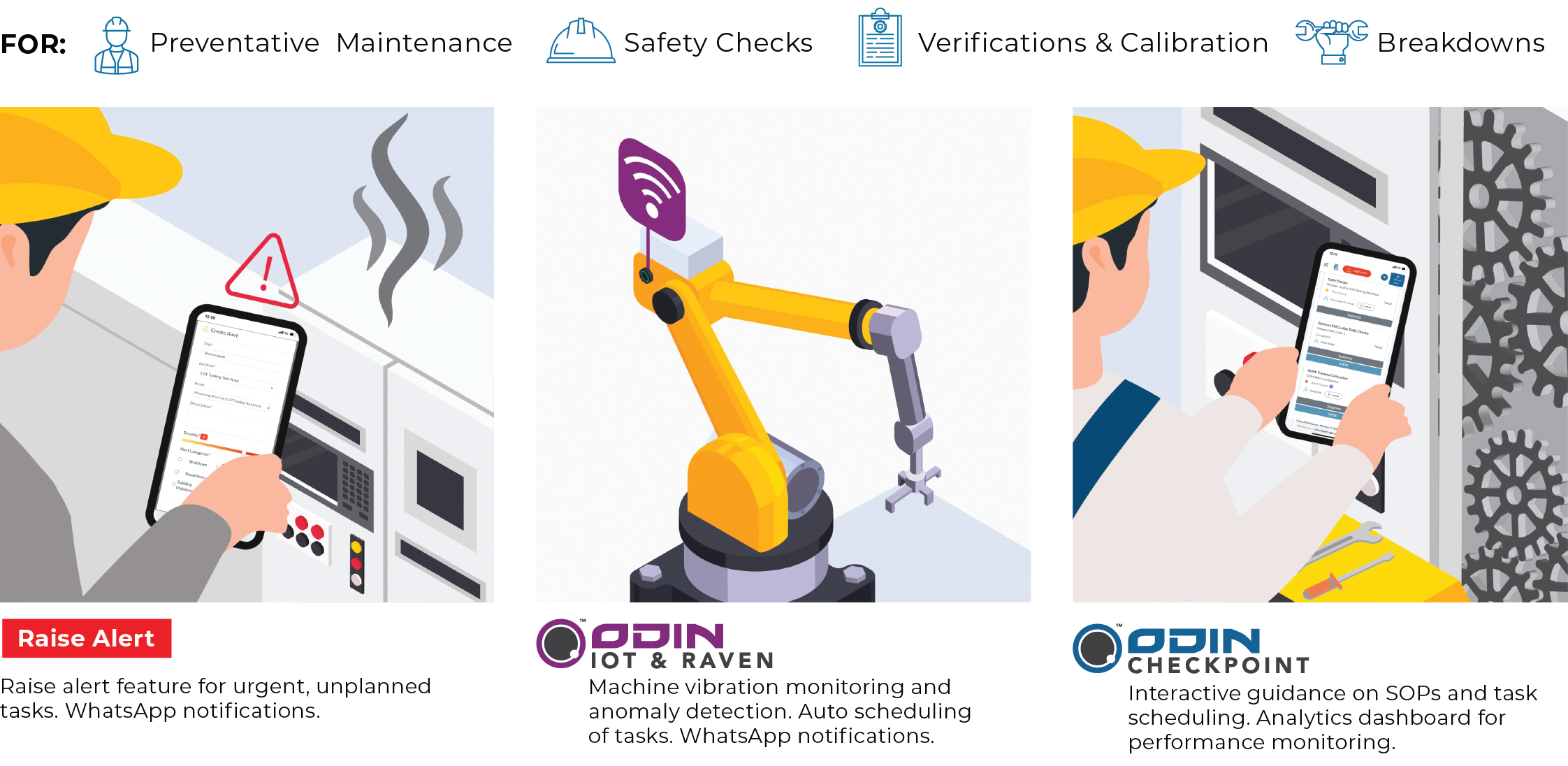 As the stand-alone base product to improve the support processes around your factory, ODIN Checkpoint is a user-friendly, cloud-based solution for preventative and predictive maintenance. Set, track and control all your maintenance and service tasks to prolong the lifespan of your assets.
You can assign and schedule planned maintenance activities without reams of paperwork. If your senior technicians are not available, digitised work instructions can help junior members carry out more complex service tasks.
When it comes to urgent, unplanned breakdowns, the Raise Alert system can be used to notify relevant team members of the problem and assign someone to take action. ODIN Checkpoint helps your technicians become accountable for performing planned maintenance tasks effectively and in time and for managing unplanned incidents. Detailed reporting and analytics gives managers a clear picture of both the technicians' performance and the health of all assets in your factory.
The addition of the ODIN Raven sensor, which works with our ODIN IOT software, turns machine vibration data into useful information that allows your team to detect anomalies and take pre-emptive action.